The Star Jar Reward System
Acknowledge good behaviour and create good habits with a unique and fun system that your child will love.
Set a reward, something your child REALLY wants
When your child does something good, they put a star in the jar
Once they reach the top, they get the reward!
As parents we know that rewarding our kids is much more effective than bribery or punishment. The Star Jar Reward System keeps us all working towards a more harmonious household, creating a loving, effective environment for your little learner and a much less stressed Mum and Dad.
Free shipping Australia wide. Buy 2 Or More & Save!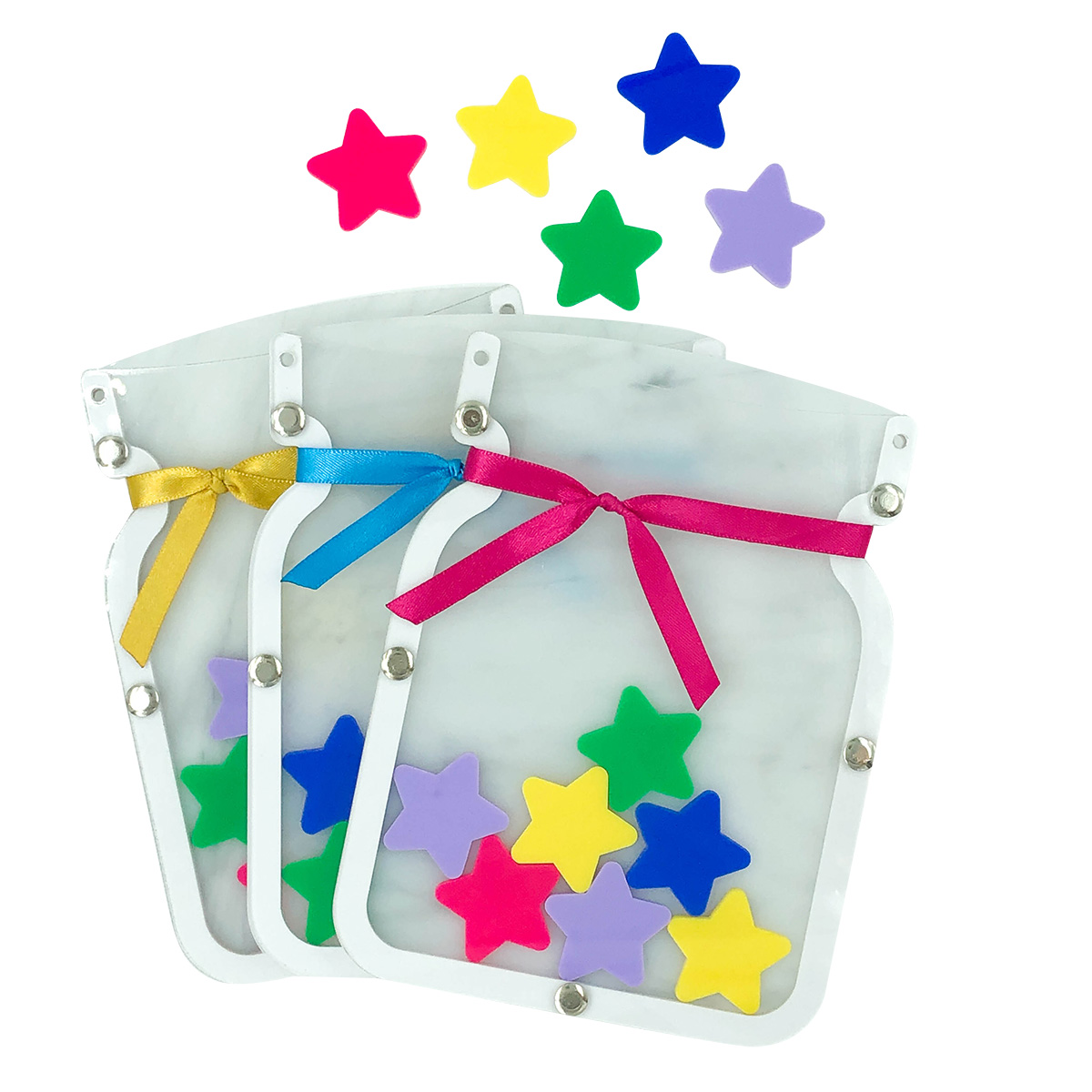 Stacey
Verified Purchase
I have noticed such a huge difference in my girls behaviour since using our star jars! Absolute life changer 🙌🏻

Michelle Cullen.
Verified Purchase
Such a beautiful product – the attention to detail is amazing and they look so good – I would recommend to everyone to buy one to help their little babes earn some stars and get rewarded.

Dora F.
Verified Purchase
Star Jars have made mornings so much easier in our household. There's no more nagging – just the sound of stars plopping into the jars as we get ready to leave home for the day! Thank you, @starjarofficial!

Jo H.
Verified Purchase
Star Jar has been amazing for toilet training my son. We tried every tip, trick and bribe and this is the only thing that has worked. After 2 weeks our son was 100% toilet trained. Now that the jar is nearly full I will be sure to use it for other challenges ahead of me 🙂

Lisa Klibansky
Verified Purchase
My children, aged 3, 5 and 7, have responded so well to the star jar system. I'm very much a believer in rewarding good behaviour and choices and this tool enables me to do so, but also gives the children a goal to work towards without instant gratification. I recommend it to all my friends with kids, I think it's brilliant!

Elizabeth Chapman
Verified Purchase
Such a well made and beautiful looking product. We also purchased the gold stars, we will be using these to use with toilet training. I would highly recommend the star jar!

Julie
Verified Purchase
We have some big behavioural challenges in our house, but to see the pure joy and excitement on my little mans face each time he gets a star just melts my heart. What an absolutely awesome product, wish I had one years ago. He can't wait to fill it and get his first reward. Thank you Star Jars for brightening up our lives. Stephanie
Verified Purchase
Our Star Jar arrived super quickly and miss 3.5 was very excited to start earning stars to fill it up! We also ordered extra gold stars which we save for extra special occasions. Great quality product and lovely service.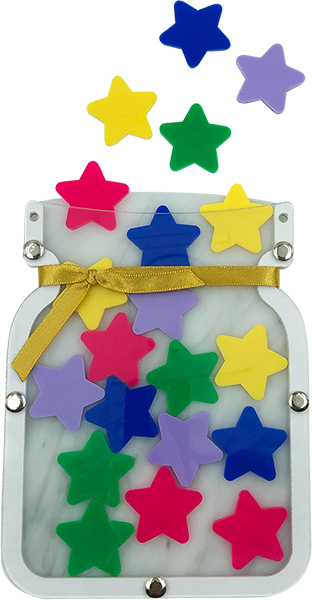 The 'Star Jar' is a reward system that helps parents of children aged 3 to 8 acknowledge good behaviour in their children by creating good habits and reinforcing positive behaviour.
Better Than A Behaviour Chart
The concept is simple and easy for kids to grasp. Each time your child does something desirable, they get to put a star into the jar. Once they reach the top they get a prize or reward that they've been building up to.
Our Star Jars are colourful, reusable, tactile and make a great sound when the stars drop in so it keeps your little ones interested.
Why Do I Need A Star Jar?
There's a number of benefits to using a Star Jar compared to chore charts, complicated points systems, or sticker charts.
It's bright & colourful which keeps kids interested
It's tactile and easy for little hands to use
Makes a nice sound when stars drop for auditory reinforcement
You can write on the stars with a whiteboard marker
You can take it with you when you travel with the handy carry bag
And it's easy to clean and most importantly reusable
Kids love the Star Jar because it's such a simple and fun concept.
Parents love the Star Jar because it helps them focus on reinforcing positive behaviours versus looking at the negatives all the time.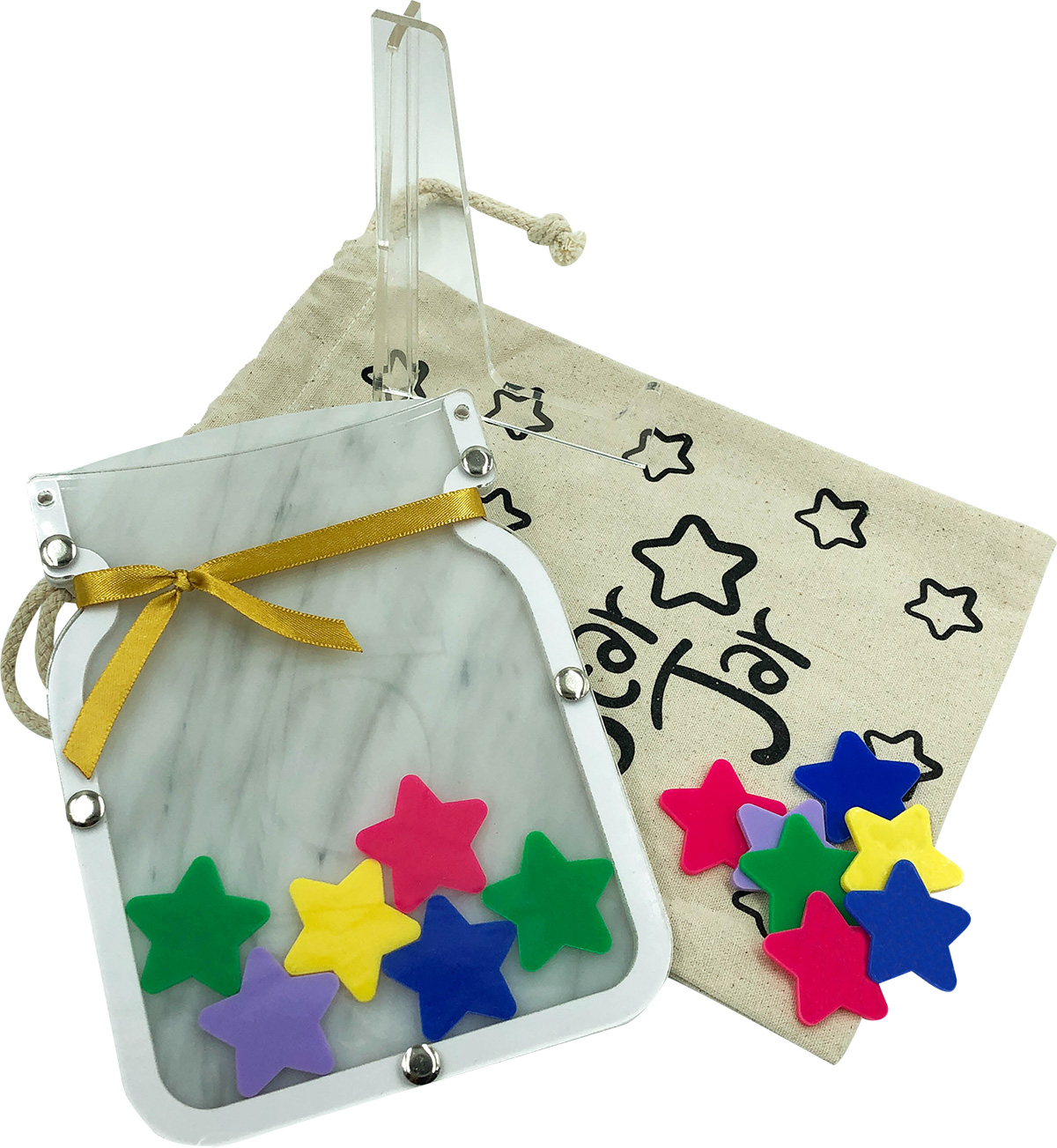 Frequently Asked Questions